Come to our kitchen and learn how to "tortillar" with our local chef.  Preparing food offers students a chance to learn about local Guatemalan culture.  El Frijol Feliz offers several cooking class options.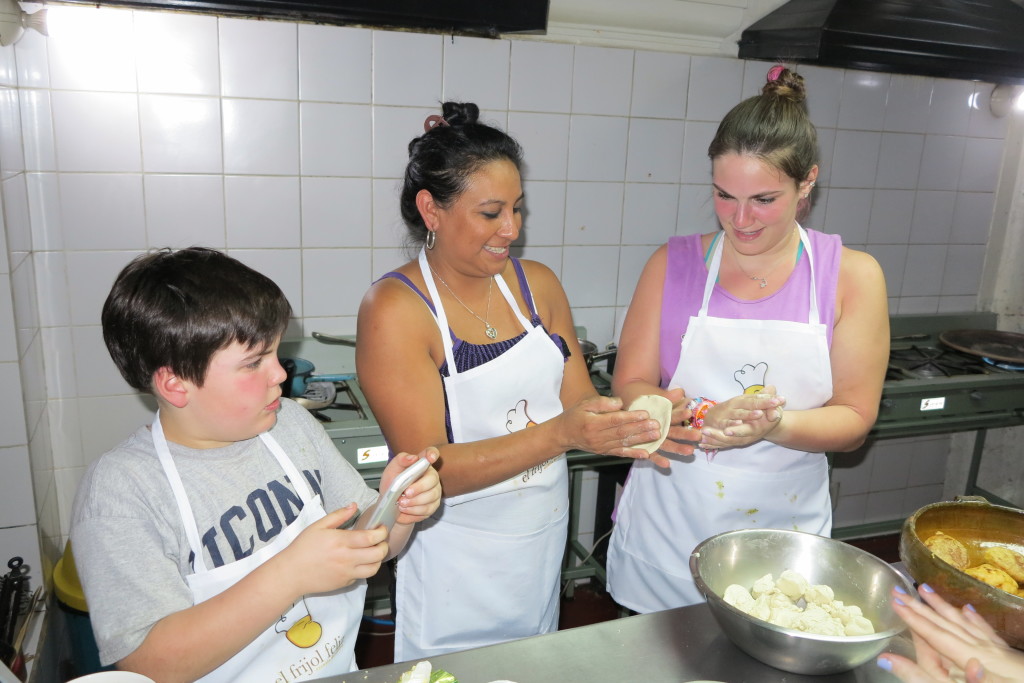 COOKING CLASSES
El Frijol Feliz Cooking Classes offer you the choice to choose and prepare 4 plates. You will choose one 'main dish', two 'second options' and one 'dessert.' Visit our MENU page to learn more about these traditional dishes.
Main Dishes (Choose One)
Pepián
Jocón de Pollo
Chiles Rellenos en Salsa de Tomate
Hilachas
Frijoles Rojos Colorados
Tamales Colorados*
Paches (Potato Tamale)*
Chuchitos*
*Due to the time it takes to make tamales, the Tamales Colorados, Paches, and Chuchitos classes only make the selected tamale and one dessert.
Second Options (Choose Two)
Tortillas
Guacamole
Traditional Guatemalan Rice
Picado de Rábano
Chilaquilas de Güisquil
Frijoles Volteados
Tortitas de Papa
Tortitas de Arroz
Ponche*  (Must have at least 4 people in the class)
Desserts (Choose One)
Rellenitos de Plátano
Mole de Plátanos
Camote en Dulce
Buñuelos Rapidos
Arroz con Leche
Molletes Rellenos
Try our new Baking Class!
Guatemalans love to cook, but they also adore the traditional baked goods of their country.  Champurradas are one of the most beloved baked items in Guatemala.  They are thin, crunchy cookies, baked with a non-fermenting yeast and topped with sesame seeds.  The best way to enjoy them? Dip them into a  steaming cup of delicious local hot chocolate.
Come spend an evening learning how to make champurradas with an expert local baker.   In this three hour, hands-on course, he will explain Guatemala's baking culture and walk you through all of the steps for making these delightful cookies.  You'll bake plenty of your own and taste them with some of our country's finest hot chocolate.
The class costs $35 per person, and groups must have a minimum of three students.  Classes are available
Monday
–
Friday at 5pm
and must be reserved at least 24 hours in advance.  Bottled water, aprons, and all of the necessary ingredients will be provided.  When booking this class, please select "Baking Class N/A" for each dish, as the class will be based around a variety of champurradas.